Ready-to-use
VESTAKEEP® PEEK - Implant grade filaments
Evonik has become the first company in the world to develop a polymer filament based on PEEK (polyether ether ketone) in implant-grade quality for use as a 3D printing material for implants.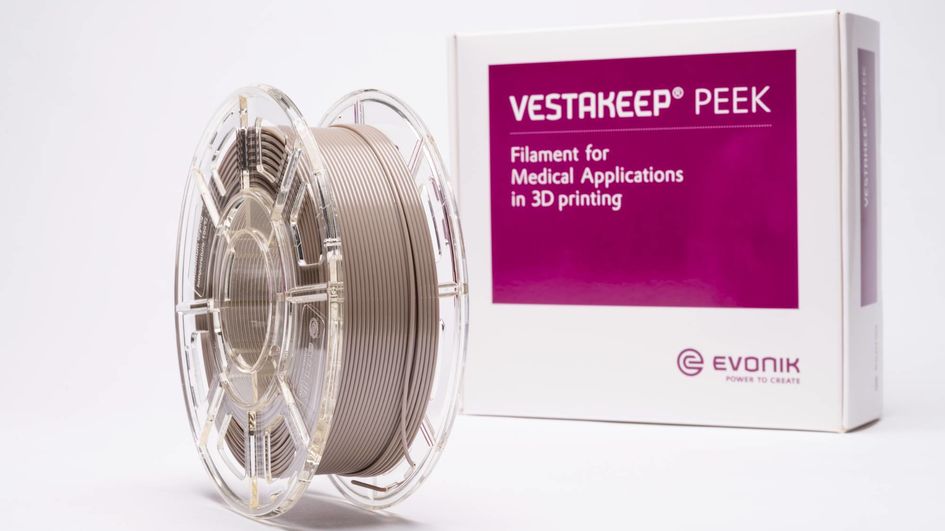 This high-performance material can be used in fused filament fabrication (FFF) technology and is expected to enable additive production of three-dimensional plastic parts for medical implants in the human body.
Product overview
| | | | | |
| --- | --- | --- | --- | --- |
| | | | | |
| | Implant 3D printing grade with osteoconductive properites | | Transparent spools with 250g or 500g | |
| | Implant 3D printing grade | | Transparent spools with 250g or 500g | |
| | Test and development grade | | Deep purple spools with 250g or 500g | |
Testing and Development grade enables cost-effective process adaptation
Evonik provides what is known as a "testing grade" version of its PEEK filament for fused filament fabrication (FFF) technology. The testing-grade material has the exact same processing and mechanical product properties as the implant-grade material—but without the documentation needed for approval in medical device applications. This offers a cost-effective way of adapting the processing characteristics of the high-performance plastic for printing processes.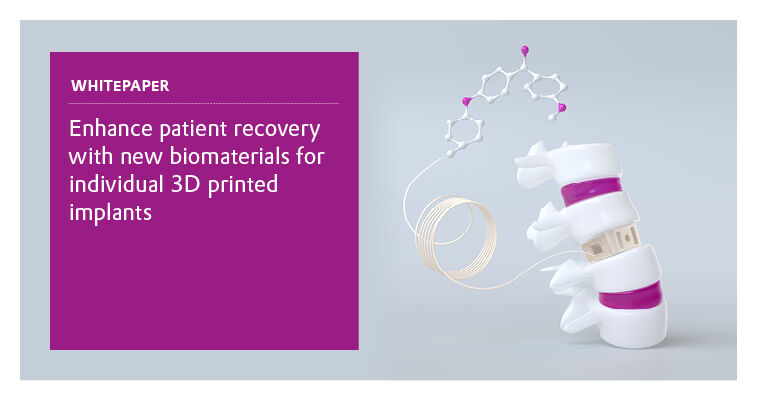 No other market showcases the benefits of additive manufacturing as evident as in today's medical technology. Evonik and KUMOVIS, a 3D Systems company, explore the possibilities of 3D printing in medical technology for enhanced patient recovery.
Medical 3D printing grade
VESTAKEEP®i4 3DF is perfectly suitable for additive manufacturing using fused filament fabrication (FFF) technology. This PEEK filament is an implant-grade material based on VESTAKEEP® i4 G, a highly viscous, high-performance polymer from Evonik impressing by its

- biocompatibility
- biostability
- x-ray transparency, and
- easy handling.
The filament is manufactured in a clean and controlled environment and undergoes strict quality management for medical materials to meet the requirements of ASTM F2026 (the standard specification for PEEK polymers for surgical implant applications).
LET'S EXPLORE YOUR NEXT 3D APPLICATION TOGETHER!
The better we know you, the faster we can support you!
Podcast subscription
Listen to our exclusive podcast "Unbounding 3D printing at scale" by subscribing to our newsletter.