Infinity meets reality
PEEK Filament for 3D printed implants at point of care
How Evonik's VESTAKEEP® PEEK filament enables individual treatment of patients at point of care. 
Use case at a glance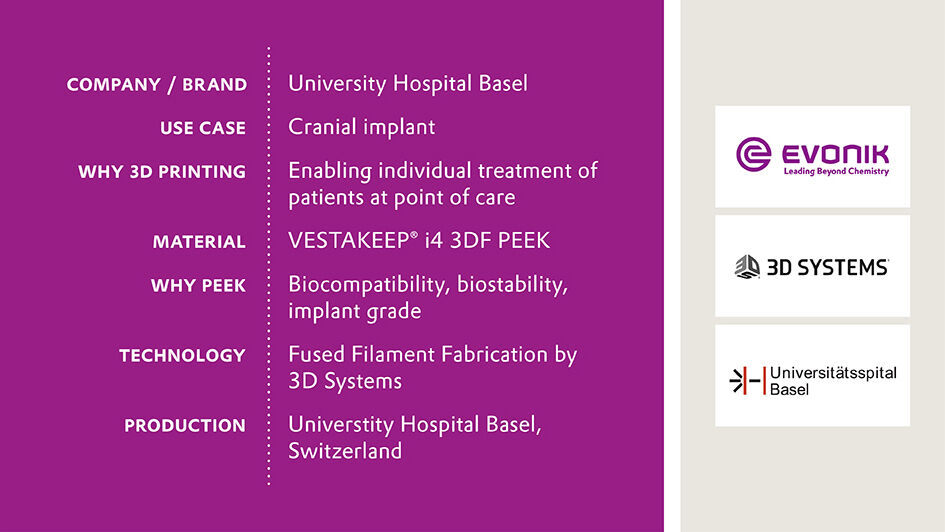 Headquartered since 1842 in a baroque palace not far from the banks of the Rhine, the University Hospital Basel has a strong sense of tradition, and an even stronger commitment to the advancement of patient-focused medical care. The hospital has a strategy of following patients closely through their individual journeys of diagnosis, treatment and follow-up therapy. To this end, the hospital's experts are also engaged in research and development, and always keen to explore technology that can enhance patient-specific treatment at the point-of-care.
CHALLENGE: Enabling individual treatment of patients at point of care
The university had a need to create an implant for a patient who had a caved in skull. The cranial implant had to be formed exactly to the anatomic measurements of the individual patient, and had to meet specific requirements in strength, stability and ease of handling.
To gather the necessary information, Doctors at University Hospital Basel first completed a computerized 3D scan of the patient's skull. Data gathered from this procedure was then used as a basis for modeling a tailor-made, prosthetic that could fit perfectly to the anatomic dimensions of the patient. Work then continued in the hospital's own 3D printing laboratory, which is outfitted with extrusion technology from the printer manufacturer, 3D Systems.
The expert team was led by Professor Florian Thieringer, a consultant at the hospital's Oral and Maxillofacial Surgery Clinic – as well as an expert on additive manufacturing for medical applications – and also the hospital's head of neurosurgery, Professor Raphael Guzman.
And the material of choice for this team of experts was Evonik's VESTAKEEP® i4 3DF PEEK filament.
SOLUTION: VESTAKEEP® PEEK for 3D printed medical implants
Manufactured by Evonik, VESTAKEEP® i4 3DF is the world's first implant-grade 3D-printable PEEK (polyether ether ketone) filament that is designed to for customized, long-term use, medical applications. The PEEK filament features excellent levels of biocompatibility, biostability, and meets ASTM F2026 requirements, which is the standard specification for PEEK polymers for surgical implant applications.
Over the last five years, Evonik has been gradually developing new PEEK-based filaments for medical 3D printing applications and thus setting material quality standards in medical technology with additive manufacturing. The current portfolio includes different grades for long-term and short-term body contact applications:
Long-term body contact applications:
VESTAKEEP® i4 3DF - Implant grade (long-term)
VESTAKEEP® i4 3DF-T - Test and development grade
VESTAKEEP® iC4800 3DF - Osteoconductive implant grade
VESTAKEEP® iC4612 3DF – Carbon-fiber reinforced (12%) implant grade
VESTAKEEP® iC4620 3DF – Carbon-fiber reinforced (20%) implant grade
Short-term body contact applications:
VESTAKEEP® Care M40 3DF - Medical care grade
RESULT: IMPLANT GRADE PEEK FILAMENT FOR 3D CUSTOMIZABLE PATIENT CARE
"For modern medical technology, the development of our first 3D-printable implant material opens up new opportunities for customizing patient treatments," says Marc Knebel, who heads the Medical Devices & Systems market segment at Evonik.
The implantation surgery was successful and the after-care process has begun, under the watchful eyes of University Hospital Basel's many expert staff. Of the many aspects of this patient journey, the technological ability for hospital staff to scan and manufacture the prosthesis on-site has a remarkable significance for the future of medicine. In order to stay MDR compliant (Medical Device Regulatory), the University Hospital of Basel has developed and established a quality management system for additive manufactured implants which has been succesfully audited. 
"The successful implantation at the University Hospital of Basel is a pivotal moment for medical 3D printing, demonstrating its potential to revolutionize patient care," said Prof. Thieringer.
Indeed, the long-term outlook for 3D printing technology's value to the world of medical treatment seems limitless. Evonik's High Performance Polymers business is currently active in researching, developing and collaborating with top players in the medical industry to provide solutions that have true impact.
"Innovative high-performance materials like Evonik's VESTAKEEP® PEEK—along with highly complex hardware and software, and the perfect match between materials and machines—form the basis for a sustainable 3D-printing revolution in medical technology. Therefore, we will successively expand our product portfolio of 3D printable biomaterials," says Evonik's Marc Knebel.
Evonik has been the world's leading manufacturer of smart biomaterials for additive manufacturing technologies for more than 20 years. The specialty chemicals company offers the industry's most extensive portfolio of 3D-printable biomaterials for medical technology, which can be used to manufacture medical device parts designed for temporary and permanent body contact. In addition to PEEK-based filaments of the VESTAKEEP® brand, the portfolio includes the RESOMER® line of bioresorbable filaments, powders and granules for implantable medical devices.
Listen to our exclusive podcast "Unbounding 3D printing at scale" by subscribing to our newsletter.