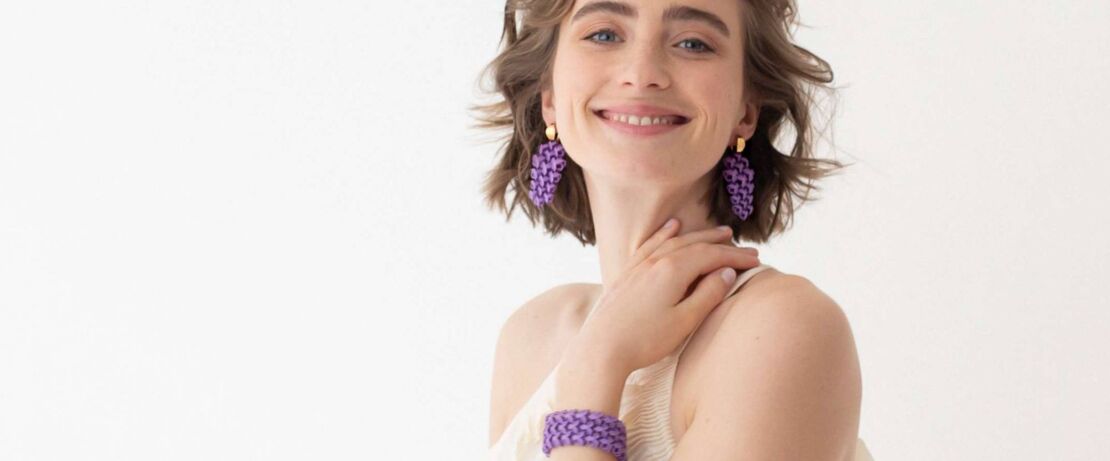 Press release
Product & Solutions
May 16, 2023
The architecture of coding, colors and customized fine jewelry
Have you ever associated manufacturing of plastic parts with terms like style, inspiration or even glamour? In case of the world's first 3D printed fine jewelry by BOLTENSTERN made from Evonik's polyamide 12 multipurpose material for infinite 3D applications, you will.
Set in the heart of Vienna — a city renowned for its Baroque and other architectural gems — is a family‑owned jeweler that is becoming known for its own form of modern, architectural jewels. Enter Marie Boltenstern, the current CEO and namesake of BOLTENSTERN GmbH, a jewelry brand with a long reputation among connoisseurs for its range of exquisite designs, founded by her father.
Since 2015, however, when Marie took over the company, the brand has been known for its intricate, geometrically shaped jewelry created through 3D printing. An architect by training, Marie's passion for three-dimensional shapes and designs carried over into wearable creations when she took over the helm of the company. Her mesmerizing creations come in various stunning materials like 18K yellow gold, and feature diamonds and other gems. Especially unique is their entry brand FABNORA, which is created mainly out of Evonik's polyamide 12, or short PA12, a special high-performance material that is designed specifically for a stunningly wide range of 3D applications.
ARCHITECTURE, CODING AND FABULOUS DESIGNS
"In 2015, when I took over the company, my aim was to 3D print 18k gold," says Marie. Fascinated since her architect days by the complex shapes that could be formed through computer programming, Marie started writing her own code to create unique designs for jewelry. "With code, it's possible to create an infinite number of beautiful, elegant shapes," says Marie, "but of course, in a computer everything can look OK. I needed to bring my complex, moveable structures to life."
As printing directly in gold during the developmental phase would have been very costly, Marie started working with PA12 initially as the material for her prototypes. "One day, I was looking over some designs with a friend and I noticed how elegant they looked in the prototyping material, too," says Marie. It was the birth of what was to become the FABNORA entry brand.
A CUSTOMIZED PA12 Powder 3D PRINTING MATERIAL
A high-performance thermoplastic, Evonik's PA12 is specially designed to be used for additive manufacturing  processes such as selective laser sintering (SLS), high-speed sintering (HSS), and multi-jet fusion (MJF). These polyamide-12 based powders have excellent material properties sought after by demanding end-users, including excellent powder flow, high impact strength and high flexibility, and a great surface finish that can be easily dyed after printing.
Initially working with PA12 for her prototypes, Marie realized the potential of the materials' various properties. It was the beginning of what was to become her FABNORA line of jewelry.
"Evonik's PA12 is actually a great asset for jewelry — especially earrings — because the resulting product is super light. The material is also very strong, yet to the touch, it feels like fabric. It adapts wonderfully to the body like a second skin," says Marie.
SEASONAL SHADES AND CUSTOM COLORS
Regarding the ability of dyeing PA12 end products, the FABNORA jewelry line comes in a dazzling array of options. "We offer FABNORA in a rainbow of 20 colors that are renewed every summer and winter," says Marie.
The colors range from neutral to super bright tones, and are specially developed by DyeMansion, a German-based company specializing in complete, connected & fully integrated end-to-end solutions for all finishing steps. Thanks to their cleaning solutions (DyeMansion Powershot C), the PolyShot surface finish and the coloring system DM60 and the proper use of these systems by the experienced service provider FORMRISE, the raw parts could be turned into high-value products. - For the FABNORA collection, it was possible to choose from the largest color database available, based on RAL shades or Pantone colors, for example. Thanks to DyeMansion's Color Matching, however, special colors, such as Evonik's deep purple, can also be developed and offered in a reproducible manner.
A FABULOUS ROAD AHEAD
Looking ahead, Evonik plans to continue expanding the possibilities of the additive manufacturing by developing new innovative products to unbound sustainable 3D printing at scale. The company knows the right buttons to optimize production processes and to expand capacities along further market growth.
As for future plans for BOLTENSTERN, Marie is currently looking to expand into more markets within the European Union. As usual, she is also working on some new fabulous designs to be introduced in the FABNORA entry brand.
"One of the inspirations for my designs is to embody the connection between the digital and the physical world," says Marie.
All images are copyrighted by BOLTENSTERN GmbH
Video is copyrighted by DyeMansion GmbH
Company information
Evonik is one of the world leaders in specialty chemicals. The company is active in more than 100 countries around the world and generated sales of €18.5 billion and an operating profit (adjusted EBITDA) of €2.49 billion in 2022. Evonik goes far beyond chemistry to create innovative, profitable, and sustainable solutions for customers. About 34,000 employees work together for a common purpose: We want to improve life today and tomorrow.
About Smart Materials
The Smart Materials division includes businesses with innovative materials that enable resource-saving solutions and replace conventional materials. They are the smart answer to the major challenges of our time: environment, energy efficiency, urbanization, mobility and health. The Smart Materials division generated sales of €4.83 billion in 2022 with about 7,900 employees. 
Disclaimer
In so far as forecasts or expectations are expressed in this press release or where our statements concern the future, these forecasts, expectations or statements may involve known or unknown risks and uncertainties. Actual results or developments may vary, depending on changes in the operating environment. Neither Evonik Industries AG nor its group companies assume an obligation to update the forecasts, expectations or statements contained in this release.