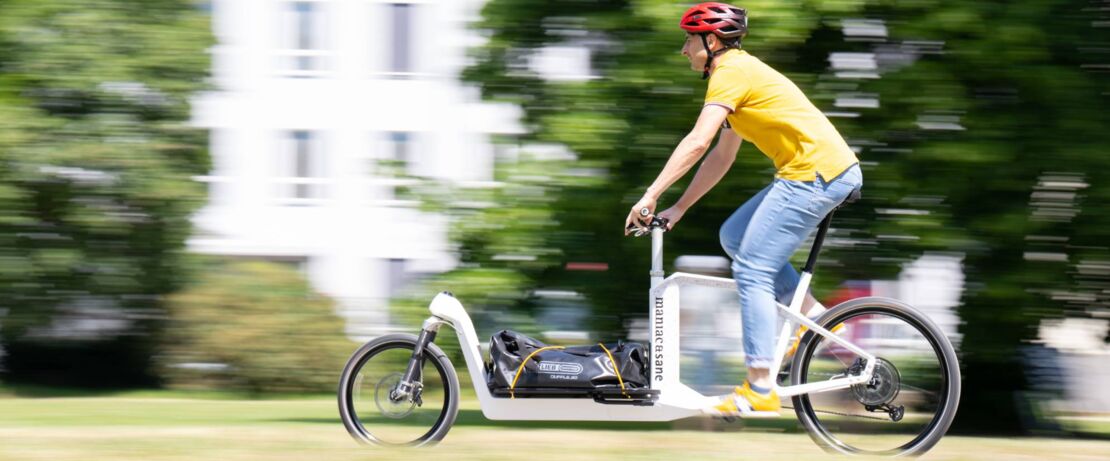 Press release
Products & Applications
August 17, 2023
INFINAM® PA12
Crazy-light cargo bikes with 3D parts onboard
Cargo bikes are shaking up the image of the European city center. A unique feature in their designs are special 3D-printed components made of INFINAM® PA12 from Evonik .
Cargo bikes are shaking up the image of the European city center. These eye-catching boxes-on-wheels are rapidly becoming the transport of choice for today's environmentally conscious, urban-dwelling families. Despite being practical and chic, cargo bikes can be heavy – some with electric-assist can weigh up to 60 kilograms. And the greater the weight, the more effort needed to maneuver the vehicle through streets, intersections or past other road users. Fortunately, custom bicycle designers and tinkerers at Maniac & Sane are showing how things can be made easier, by creating ultralight cargo bikes made of fiber composite materials. A unique feature in their designs are special 3D-printed components made of INFINAM® PA12 from Evonik.
Whether it be a child, a dog or a crate of water, a cargo bike can transport it all. In fact, statistics show these are respectively also the most popular loads carried by cargo bike users. And it seems more and more people every day are transporting themselves, their pets or even goods with their own leg-pedaling power. Trends from the last three years continue to show upward growth in this direction. While there were 16,000 cargo bikes sold in Germany in 2019, the number skyrocketed to 100,000 two years later, as the economic effects of the pandemic subsided. And in Europe, cargo bike sales grew by an average of 40 percent between 2019 and 2021. Looking ahead, several market studies predict annual market growth for cargo bikes of more than 22 percent through 2030.
Meet Martin Fleischhauer. As a passionate "biker" and engineer for lightweight structures, he recognized this trend and founded the startup cargo-bike manufacturer, Maniac & Sane, based in Darmstadt, Germany.
"Though the urban environment is becoming increasingly dense and crowded, people want to live in it in a healthy and environmentally conscious way. Cargo bikes are the right solution for this area of tension, because they fit perfectly into everyday life. Along with saving time and the effort of searching for a parking space, using cargo bikes as transportation also provides us an entertaining form of exercise. It's no wonder we're seeing more and more of them on our streets," explains Fleischhauer.
Modern cargo bikes: combining functionality with design
The passion for cargo bikes is inspiring manufacturers to make products that resonate with their customers' preferences. The result is an evolution in design that makes cargo bikes more comfortable, safer and functionally advanced.
"The latest cargo bikes incorporate a lot of technology. This requires new designs for certain functional parts: Passenger compartments are becoming more padded out, and 6-point safety belts are soon to be become a standard feature. With all these extras, cargo bikes are becoming real heavyweights on narrow inner-city bike paths," says Fleischhauer.
A cargo bike with an electric drive-assist can weigh up to 60 kilograms. And the greater the weight of a vehicle, the more effort needed to maneuver it through streets, intersections or past other road users. Yet in the end, the startup team was able to build a specially designed cargo-bike that is nearly half the weight of the bikes currently on the market.
In addition to weight of the vehicle, the load capacity was also a challenge. Standard cargo bikes on the market are built from welded aluminum, allowing them to safely carry loads of up to 220 kilograms.
"Fiber composite materials are designed to withstand extreme forces in lightweight applications. They also allow maximum design freedom. For our customers, this was important, as design and weight are the decisive criteria for or against buying a product on the market," says Fleischhauer. 
Functional components from the 3D printer

Design freedom being one of the main attributes of additive manufacturing, the team at Maniac & Sane found 3D printing the ideal solution for integrating certain functions into their custom-designed cargo bike. Together with experts from Kegelmann Technik GmbH, a leader in the generative manufacturing of models, prototypes, tools and end products, the two companies created a lamp housing and an AirTag mount that featured as integral components of the cargo-bike's frame structure.
"The challenge was to find the right technology and material for Maniac & Sane's cargo bike components. Considering the requirements: lightweight, functional components that were break-resistant and weather-resistant – and all that in a filigree design, the obvious choice was powder-based 3D printing and the INFINAM® PA12 material from Evonik," says Markus Albrecht, Additive Manufacturing Division Manager at Kegelmann Technik GmbH.

With the help of SLS (selective laser sintering) technology, the folks at Maniac & Sane were able to develop functional parts and integrate them into the lightweight design concept of their cargo bikes. As such, the end product remained appealing in design and weight – and thus, appealing for the customer.
"We are only at the beginning," says Fleischhauer. "We want to connect our designs with the emotions and passions of our customers so we can offer them a truly personal experience with our products. Among other things, this philosophy continues to result in new features such as illuminated logos, which we are currently adding to our design concept. The versatility of 3D printing and Evonik's INFINAM® PA12 create new ways for designers to approach and implement things – and, ultimately, respond to customers' individual wishes."
Three questions for:
Markus Albrecht
Head of Additive Manufacturing at Kegelmann Technik GmbH
1. If I came to you to make a concrete application that absolutely needed to be made with 3D printing, how would you respond?
Albrecht: We would take a closer look at the desired application, but I could not promise you we'd realize it using 3D printing. We have several manufacturing technologies in our machining site and we always advise our customers on the best economic solution for each application. 
2. Why did you choose additive manufacturing for the functional parts for the Maniac & Sane cargo bike?
Albrecht: It wasn't the quantities, to be blunt. Because today, I can also implement series applications per component and quantity in 3D printing at low cost. Well, here are the two main questions for or against using a specific manufacturing technology to realize any given application: 1) What are desired properties for the end product? The answer here will determine the material used. And 2) How complex is the part that is to be made? Functional integration, as in the case of Maniac & Sane's cargo bike components, increases the complexity of the end product. As such, the parts could only be realized with Evonik's INFINAM® PA12, using the SLS powder process. 
3. Could you briefly give us an overview of applications you are currently on your 3D printing machines?
Albrecht: Generally speaking, we produce parts with a high degree of customization in our additive production lines. This type of specialized manufacturing keeps us very busy. We are seeing strong growth in orthopedic applications such as orthotics. This is followed by a rise in applications from the consumer goods sector, such as components for bicycles and eyeglasses. Additionally, we are seeing many applications from the automotive sector related to product development. 3D printing is unbeatable for this purpose. Furthermore, we are also manufacturing first-series products. Additive manufacturing is ideal for such novel products, and with the latest advances in 3D-printing materials and machines, we are able to achieve the level of quality needed by our customers. 
Company information
Evonik is one of the world leaders in specialty chemicals. The company is active in more than 100 countries around the world and generated sales of €18.5 billion and an operating profit (adjusted EBITDA) of €2.49 billion in 2022. Evonik goes far beyond chemistry to create innovative, profitable, and sustainable solutions for customers. About 34,000 employees work together for a common purpose: We want to improve life today and tomorrow.
About Smart Materials
The Smart Materials division includes businesses with innovative materials that enable resource-saving solutions and replace conventional materials. They are the smart answer to the major challenges of our time: environment, energy efficiency, urbanization, mobility and health. The Smart Materials division generated sales of €4.83 billion in 2022 with about 7,900 employees.
Disclaimer
In so far as forecasts or expectations are expressed in this press release or where our statements concern the future, these forecasts, expectations or statements may involve known or unknown risks and uncertainties. Actual results or developments may vary, depending on changes in the operating environment. Neither Evonik Industries AG nor its group companies assume an obligation to update the forecasts, expectations or statements contained in this release.