STRUCTURED POLYMERS - PATENTED TECHNOLOGY FOR MANUFACTURING POWDER MATERIALS FOR 3D PRINTING
Evonik's new patented technology for manufacturing specialty polymer powders for powder bed fusion 3D printing.
New technology center in Austin, TX, USA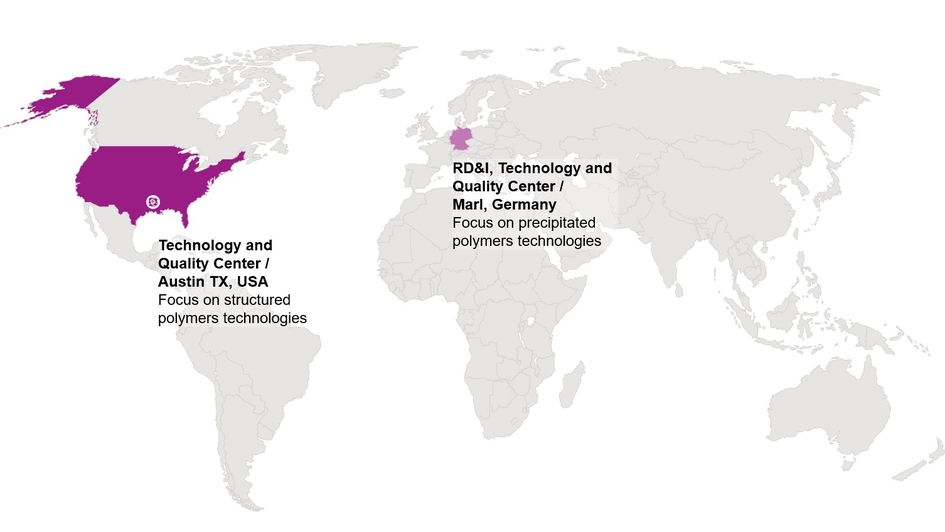 Evonik is further expanding its business in the area of additive manufacturing. In 2020, the specialty chemicals company opened a new technology center for 3D printing in Austin, Texas. The U.S. site plays a key role within Evonik's global technology network with a focus on new, ready-to-use materials for powder bed fusion 3D printing.
Evonik's new Technology and Quality Center includes a well-equipped application technology laboratory with multiple 3D printers, a processing area, laboratories for powder development and analysis, production rooms and associated office areas with meeting rooms. The building complex has modern air extraction systems and meets the highest safety standards including applicable workplace ergonomics standards.
Innovative technology for new ready-to-use polymer powder materials
The Structured Polymers patented technology starts with a polymer (granule) and ends with a fine powder.  The various process steps make it possible to produce polymer powders with controlled particle sizes ranging in diameter between 0.1 and 400 µm.  Additionally, excellent material properties are achieved after 3D printing.
The technology provides the ability to take virtually any semi-crystalline thermoplastic polymer and produce them for common powder-based 3D printing processes, such as selective laser sintering, high-speed sintering, or multi-jet fusion. In addition, this expertise provides the potential to take polymers with specialized properties like color, conductivity, or flame protection to produce 3D printable powders.
Key advantages of structured polymers
Broad range of material possible
Consistent material quality
Superior mechanical part properties
Exceptional processability in powder bed fusion
INFINAM® TPC - First structured polymers powders introduced to the market
LET'S EXPLORE YOUR NEXT 3D APPLICATION TOGETHER!
The better we know you, the faster we can support you!