RESOMER® Filament
Your biodegradable filament for medical applications
For personalized, high resolution bioresorbable 3D-printed implants
Our RESOMER® Filament portfolio can be used to develop high resolution medical polymers that are printed with Fused Filament Fabrication (FFF) technologies. A line of high-quality filaments – PLLA, PLGA, PCL and PDP-based grades – are available. These have tight specifications including a 1.75 mm diameter size and precise processing temperatures for the nozzle, bed and chamber. All filament grades are provided coiled in a spool package size of 50 grams.
| | | | | |
| --- | --- | --- | --- | --- |
| Filament Grade Characteristics | RESOMER® Filament L D1.75 | RESOMER® Filament LG D1.75 | RESOMER® Filament C D1.75 | RESOMER® Filament X D1.75 |
| | | Poly (L-lactide-co-glycolide) 85:15 | | |
| | | | | |
*Degradation time estimated based on raw material data
Versatility and reliability to meet your needs
Mechanical properties such as strength and elongation can be tailored to the target application, with degradation times ranging from less than six months to more than three years. Multiple customization options are available on request.
RESOMER® Filament leverages more than 30 years of safety, biocompatibility and supply security, and are ideal for creating high-quality, printed devices for use in application areas including cranial reconstruction, orthopedics and dentistry.
Application technology services for additional value
Evonik's Medical Device Competence Center in the U.S., and application labs in Germany and China provide a wide range of services for 3D printing with multiple technologies including FFF and Selective Laser Sintering (SLS). We support customers in material selection and customization, feasibility samples, process development, analytical characterization, mechanical testing and degradation studies.
LET'S EXPLORE YOUR NEXT 3D APPLICATION TOGETHER!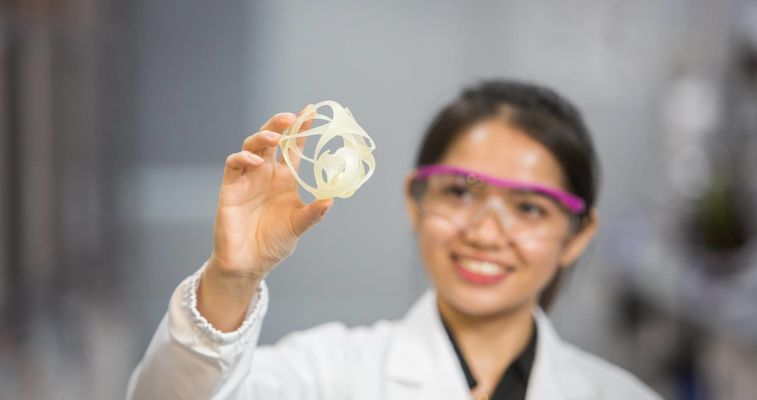 The better we know you, the faster we can support you!
Podcast subscription
Listen to our exclusive podcast "Unbounding 3D printing at scale" by subscribing to our newsletter.