Press release
Additive Manufacturing
October 1, 2020
INFINAM®
Evonik presents new product brand for infinite 3D applications
With INFINAM®, the specialty chemicals company is introducing a distinctive product name that stands for custom-designed high-performance materials allowing infinite 3D applications.
Evonik is marshaling its product range of its ready-to-use 3D-printing materials under a new brand name.
"INFINAM® gives our customers and partners clear orientation within our product landscape for additive manufacturing. Along with our key visual and our promise ("Infinity meets reality") of opening up infinite 3D applications with Evonik materials, the new product brand plays an essential role as the final element in our unique market identity," says Thomas Große-Puppendahl, Head of the Additive Manufacturing innovation growth field at Evonik.
New brand sets new quality standards
In the future, all Evonik's ready-to-use materials for 3D printing, regardless of delivery form or technological application, will be marketed under the INFINAM® product name. In the full name the brand will be suffixed by the relevant class of polymer or material to ensure clear distinction within the existing material landscape. For example,

all products based on thermoplastic copolyesters will be branded INFINAM® TPC,
all products based on polyether ether ketones will be branded INFINAM® PEEK,
all products based on thermoplastic amides will be branded INFINAM® TPA,
or all durable and impact-resistant photopolymers will be branded INFINAM® TI.

The market launch of INFINAM® accompanies Evonik's materials campaign started last year. In the coming months, the specialty chemicals group will introduce the first ready-to-use photopolymers for additive manufacturing, thus setting additional standards in material quality and performance in 3D printing. Also planned is the expansion of our own technical service expertise, as is exemplified by the recently opened Center for Structured Polymers Technology in Austin, Texas (USA).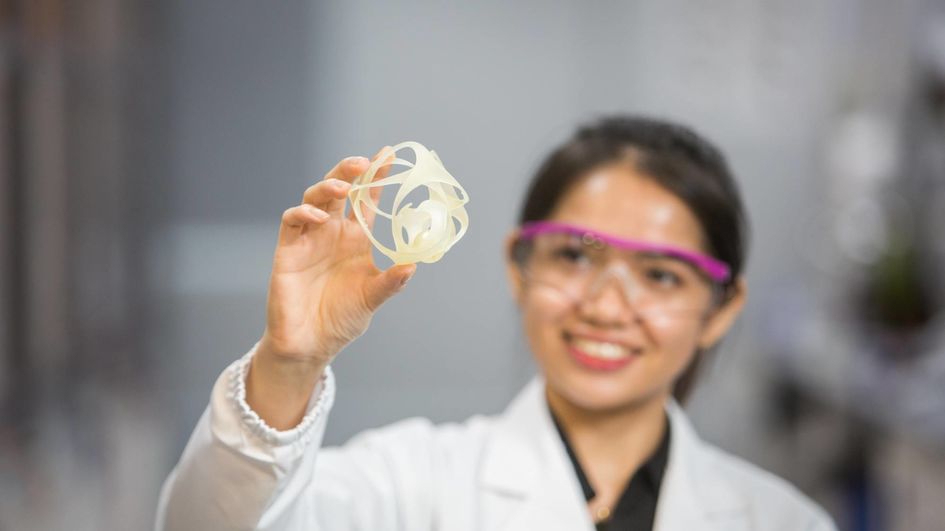 Biomedical materials to remain under their own product brands
Evonik offers the most extensive portfolio in the sector of 3D printable biomedical materials for medical technology. For plastic implants the portfolio includes, in addition to VESTAKEEP® i4 3DF PEEK filament for permanent body contact, also the RESOMER® product line with bioresorbable filaments, powders, and granules. These specialty materials are subject to strict standard specifications for polymers in medical applications that apply to the respective brands mentioned above. For this reason, these products have been excluded from transfer to the INFINAM® product family and will continue to be marketed under the VESTAKEEP® and RESOMER® brands.
Company information
Evonik is one of the world leaders in specialty chemicals. The company is active in more than 100 countries around the world and generated sales of €13.1 billion and an operating profit (adjusted EBITDA) of €2.15 billion in 2019. Evonik goes far beyond chemistry to create innovative, profitable and sustainable solutions for customers. More than 32,000 employees work together for a common purpose: We want to improve life, day by day.
About Smart Materials
The Smart Materials division includes businesses with innovative materials that enable resource-saving solutions and replace conventional materials. They are the smart answer to the major challenges of our time: environment, energy efficiency, urbanization, mobility and health. The Smart Materials division generated sales of around €3.4 billion in 2019 with about 7,500 employees. It is part of Evonik Operations GmbH.
Disclaimer
In so far as forecasts or expectations are expressed in this press release or where our statements concern the future, these forecasts, expectations or statements may involve known or unknown risks and uncertainties. Actual results or developments may vary, depending on changes in the operating environment. Neither Evonik Industries AG nor its group companies assume an obligation to update the forecasts, expectations or statements contained in this release.