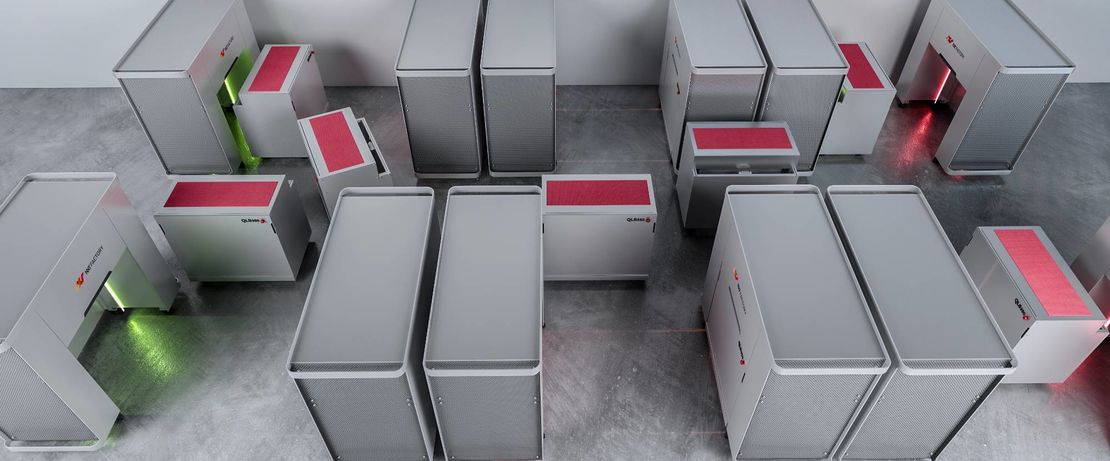 Press release
Additive Manufacturing
November 13, 2019
formnext 2019: Evonik and NXT Factory intensify cooperation for 3D printing
The specialty chemicals company Evonik and the US start-up for 3D printing technologies NXT Factory, based in Ventura, California, are expanding their partnership in additive manufacturing.
As part of this collaboration, Evonik will use its ready-to-use material development concept for the innovative QLS™ technology of NXT Factory in order to establish it on the market with a corresponding material portfolio.
Lights out factory
QLS™ 350 is a powder-based 3D printing technology, which was developed by NXT Factory, based on a patented laser light engine. Designed for completely automated lights-out twenty-four-seven operation, this system fully enables the potential of Industry 4.0 by taking additive manufacturing from prototyping to low and medium volume production.
The user-friendly design of the printer features, inter alia, Autonomous Guided Vehicle (AGV), so that the powder bed can be cooled outside the machine and moved autonomously to the depowdering station, which significantly improves productivity. QLS™ 350 was also designed to be able to process high-temperature materials like Evonik's polyamide 613 (PA 613).
"We have applied all our mechanical engineering experience to the development of the new QLS™ technology in order to create a new category in industrial manufacturing," says Kuba Graczyk, CEO of NXT Factory. "We are very excited to work with Evonik's in-depth materials expertise to advance our technology together."
A wide range of materials in use
"The new technology of NXT Factory offers further possibilities for our polymer formulations and is a perfect fit for our ready-to-use concept for strategic material development. It is our goal to provide new material systems in cooperation with customers and partners in order to further diversify the market for 3D printing materials and drive it towards serial production," says Thomas Große-Puppendahl, head of the Additive Manufacturing innovation growth field at Evonik.
Evonik bundles its competencies in 3D printing in its Additive Manufacturing innovation growth field. The strategic focus is the development and manufacture of "ready-to-use" high-performance materials across the major technology segments. The specialty chemicals company plans to release its high-temperature polymer powder PA 613 on NXT Factory's QLS™ 350 platform in the first quarter of 2020.
The 3D printing market is booming, with growth rates in the double digits. Within this market, Evonik is the world leader in manufacturing polyamide 12 powders (PA 12), which have been used in additive manufacturing technologies for over 20 years. In addition to PEEK filament and PA 12 powders, the product portfolio includes flexible PEBA powders and copolyesters and a wide range of additives, such as dispersants, flow improvers and reactive modifiers.
Find out more about Evonik's business activities in the field of additive manufacturing at our booth C71 in hall 12.1 at formnext in Frankfurt am Main from November 19-22.
About NXT Factory
NXT Factory massive transformative purpose is to accelerate the transition of additive manufacturing from the rapid prototyping phase to full industrial-strength in low and medium volume production.
Homepage: www.nxtfactory.com
About Evonik
Evonik is one of the world leaders in specialty chemicals. The focus on more specialty businesses, customer-oriented innovative prowess and a trustful and performance-oriented corporate culture form the heart of Evonik's corporate strategy. They are the lever for profitable growth and a sustained increase in the value of the company. Evonik benefits specifically from its customer proximity and leading market positions. Evonik is active in over 100 countries around the world. In fiscal 2018, the enterprise with more than 32,000 employees generated sales of €13.3 billion and an operating profit (adjusted EBITDA) of €2.15 billion from continuing operations.
About Resource Efficiency
The Resource Efficiency segment is led by Evonik Resource Efficiency GmbH and produces high performance materials and specialty additives for environmentally friendly as well as energy-efficient systems to the automotive, paints & coatings, adhesives, construction, and many other industries. About 10,000 employees are employed in this segment, generating sales of around €5.5 billion in 2018 from continuing operations.
Disclaimer
In so far as forecasts or expectations are expressed in this press release or where our statements concern the future, these forecasts, expectations or statements may involve known or unknown risks and uncertainties. Actual results or developments may vary, depending on changes in the operating environment. Neither Evonik Industries AG nor its group companies assume an obligation to update the forecasts, expectations or statements contained in this release.